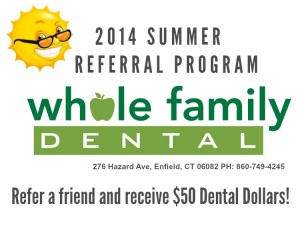 Program runs from 6/23/2014-9/22/2014.
A referred patient must:
be at least 18 years old;
be new to our practice;
not be a member of your household;
complete a comprehensive exam at Whole Family Dental before 9/22/2014;
list your name in the "Whom may we thank for referring you?" section of the medical history form.
The referral is counted upon completion of the first appointment, at which time the Dental Dollars will be credited to your account.
Dental Dollars are not transferrable between patients.
Dental Dollars have no cash value. No cash refunds will be offered for Dental Dollars.
Dental Dollars may be used towards an existing balance or towards any fees incurred within 24 months.
Dental Dollars may be used towards dental work rendered.
Dental Dollars may not be used towards the purchase of products.
Dental Dollars will remain on-account until applied toward dental services up until 24 months, at which time they will expire if not used.
There is no limit to the number of Dental Dollars a referrer can receive.
Whole Family Dental will notify you when your Dental Dollars are credited to your account, (after your friend or family member completes his/her appointment.)
Rules and Regulations may be amended at any time.